DMG Productions explores the latest technological breakthroughs in science and technology.
Jupiter, FL (PRWEB) June 22, 2015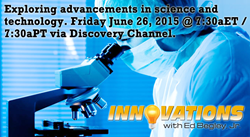 DMG Productions announced the airing of Innovations with Ed Begley, Jr., on Friday, June 26, 2015, via the Discovery Channel.
The show featured VGXI Inc., a leading contract manufacturer of DNA plasmids known for their cGMP and non-cGMP products, which have passed rigorous international regulatory reviews. Innovations educated on VGXI's patented manufacturing process and cGMP production facilities.
"Advancements in science and technology are at the forefront of the healthcare community," said Michele Nehls, Producer for Innovations. "The episode features some of the fundamental products, people, and technologies responsible for enabling better diagnostics and treatment options for patients."
About Innovations & DMG Productions: Innovations, hosted by award winning actor Ed Begley, Jr., is an information-based series geared toward educating the public on the latest breakthroughs in all areas of society. Featuring practical solutions and important issues facing consumers and professionals alike, Innovations focuses on cutting-edge advancements in everything from health and wellness to global business, renewable energy, and more.
DMG Productions (responsible for creating the Innovations show) includes personnel specialized in various fields from agriculture to medicine, independent films to regional news and more. Our field producers work closely with experts in the field to develop stories. This powerful force enables us to consistently produce commercial-free, educational programming that both viewers and networks depend on.
Full press release available here:  PRWeb